Wednesday, October 12th, 2011 by Tony Reid
I remember reading an article a number of years ago as a young lad that appeared in Sports Illustrated in which a very bored writer passed time in his hotel room by plugging players names into a spell check program and recording the somewhat interesting results. My personal favorite was former L.A. Dodgers pitcher Hideo Nomo, who it was suggested, be turned into a Hideous Nome.  I took this idea and ran some of our favorite mixed martial artists names through a spell check to see what would be suggested. Yes folks, I am bored!  Take a look at the hits and misses…
Alistair Overeem (overeat) – He must overeat to keep his ahem, "strongman" figure. We can credit his crazy physique to eating chicken and drinking protein shakes, right? So this suggestion is a good fit. 
Alessio (lesion) Sakara (safari) – It's a bad day at the office when you are headed on a lesion safari. That might be why Alessio is trying to cover up every inch of his body with tattoos.  
Fabricio (fabricating) Werdum (weirdo)- Is Fabricio a "Fabricating Weirdo"? I don't know him personally but I would have to bet against it.
Shinya (shiny) Aoki – Considering his choice of in ring attire I would say this is fitting.
Chael (cheat, chapel) Sonnen (sunken) – A cheat or a chapel, two polar opposites and I will let you decide which is more fitting. Or do you prefer a "Cheat Sunken"? I think Anderson would.
Michael Bisping (bashing, brisling)-He has been known to bash opponents in a number of different ways and not always in the cage.
Bas Rutten (rotten)-Our beloved "El Guapo" is far from rotten! The spell check misses here.
Brock Lesnar (leaner, loner,) – Interesting, one could argue that Brock is a "Leaner Loner".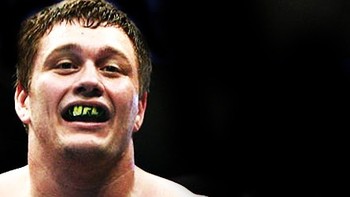 Matt Mitrione (Migraine) – Incredibly fitting… who remembers Meathead's issues on TUF? Now a full fledged member of the UFC family he has been delivering shots that cause them.
Cheick (cheek) Kongo (bongo) – I would wager that some guys prefer to play "Cheek Bongo" on Cheick Kongo.
Nam (Ham, Man, Nag, Nap) Phan (Pan, Plan, Phone) – A "Ham Phone" or a "Man Plan"…misses…but a nag? Well…maybe.
Uriah Faber (fibber, faker) – A fibber and a faker, ouch! Not sure how accurate that one is either. Dominick Cruz would make a case that both are accurate, as well as anything else negative we could say about the "California Kid".
Takanori Gomi (gnome, gummy) – I finally found my gnome! Gomi is not nearly as hideous as Hideo though.
That concludes my short list of semi interesting suggestions. I feel like I should be doing something more productive like watching a Fred Ettish Instructional DVD or something. If you come up with any fun names feel free to share them with me here or at www.facebook.com/RattlingtheCage