Monday, February 28th, 2011 by Tony Reid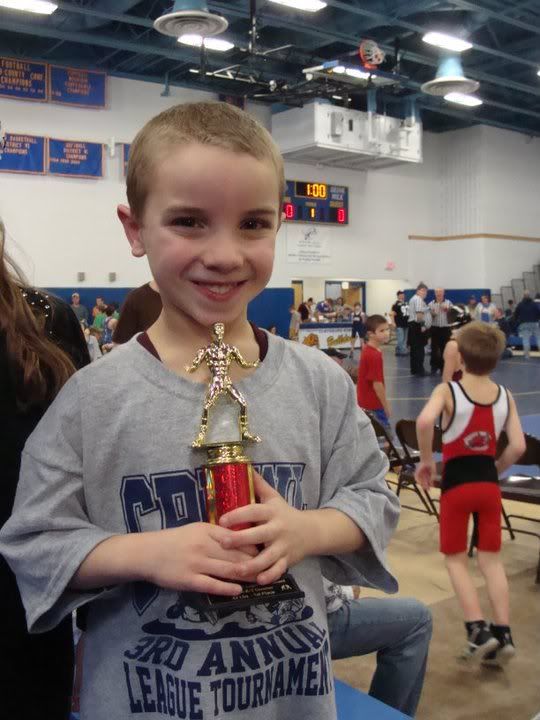 I figured being a lifelong athlete myself and pretty damn good one at that, I would be well prepared for the beginningof my son Tyson's athletic endeavors. The old adage that that states something to the effect that "I would rather be out there competing myself than watching someone I love from the sidelines" is so incredibly true on so many levels.
My little guy, Tyson, just turned six and this was his first season wrestling. Wrestling is in our family's blood as my dad was a good wrestler in his day and my cousin was a high school state champ. Tyson's uncle on his mom's side was also an accomplished wrestler but wrestling was the one sport I never participated in.  Maybe I wasn't ready for one on one competition at such a young age. That is something I am so proud of and respect so much about my little guy.
Right from the moment we found out he wanted to wrestle I told myself that I was not going to be one of those crazy parents that you hear screaming from the stands, running around, getting in fights and overall just making their child's life a living hell. With the season now complete I can safely say that I kept that promise. Sure I would cheer him on and encourage him but not to the level of crazy. I would sit there and use my handy little Flip Share to record all of his matches so we could take a look later to see what we can continue doing right as well as what we can improve on. Of course there are moments where you want to scream in frustration or yell or just run around and chestbump everyone in celebration but for God's sake people, remember that this is about your child, not you! I see no difference in an overbearing wrestling dad who is out there screaming, jumping around and trying the get a half nelson on the air in front of him as his son is on the mat doing his best and one of those crazy, overweight, middle aged mothers on Toddlers and Tiaras trying to vicariously live through their daughters. This season I witnessed a few situations where fathers did that and worse. Like dragging their kids off the mat and into the locker room and I'm sure it only got worse for the kids back there. If the parents can't handle their five year old losing a wrestling match, how well equipped are they to handle more pressing things in their lives? And more importantly, how will these young kids develop any coping skills to prepare them for bigger obstacles in life?
It takes a ton of guts, among other things, for a five or six year old kid to step out on that mat in front of a crowd of people and compete against another kid one on one. This is clearly one of the reasons that even as they get older and become successful in wrestling and other fields that wrestlers continue to be so humble and display such humility in all aspects of life. At some point in time, no matter how great you are your shoulders will be on the mat with another person on top of you, physically dominating you. There is no one else to blame. There is no right fielder that missed the fly ball that lost the game, there is no running back that fumbled three times, there is no point guard that cant dribble to save his life, there is no one else to take responsibility but the person in the mirror and that is an incredible life lesson to learn at such a young age. Tyson had an exhibition match this year against a kid that was much, much bigger than he was. They just threw them together to get some mat time, I guess. Well, Tyson held his own for a few seconds but eventually the other kid was just too big and got the best of him. So he is obviously very dejected as he comes back to the stands and he gets to us and starts crying.  There is a time to wear the hat of coach and give your child instruction and teach and even give a healthy push and there is a time to be Daddy. This was a moment where he needed Daddy.
We were fortunate enough that Tyson had a great first season. He actually went undefeated with his only loss coming in that exhibition match against the kid that was closer to my weight class than his, so we won't count that one. We were all so impressed with how dominant he was in his first season. He won tournaments, was pinning kids in a matter of seconds and showing a natural athletic ability that I can't help but be proud of. There were even matches in which his opponents wouldn't continue after the first period and others would run off that mat crying. To an outsider that sounds funny but guess what? It wasn't funny, we understood, we had already been there ourselves. Maybe that awesome trait of humility that wrestlers develop can jump off the mat and into the stands, toward his parents if they are willing to accept it. We joked that the way he performed, along with his body type that he looked like a little GSP out there on the mat.  He loves the sport so much, but above and beyond all of the on mat accomplishments he has stayed the sweet, thoughtful, kind hearted and loving little man that we are so proud of. He is a great son to his mom and I, a great step son to his step parents and great brother to his sister after all that's what matters most.
*If you would like to see Tyson in action check out his vids on Tony's Facebook Page at www.facebook.com/mranthonyreid