Saturday, November 27th, 2010 by Tony Reid
I recently began to kick around the idea of what athletes from other sports would be successful (or at least entertaining) in the world of mixed martial arts.  Now, the list is highly subjective and just a sampling of guys from the other major sports that I would be interested in seeing standing in the Octagon after the gate closes. The list contains a number of players that are retired, well past their prime, hell some are even dead.  So imagine these guys in their prime doing battle.
Football
This sport seems like the most natural place to start in looking for a combatant to cross over into mixed martial arts. I have chosen mostly players that played in the 60's, 70's and 80's with one exception.  What is the main reason for this pattern? They played tackle football in those days, kids! In an era when the men were men and so were the women. The stuff you see today is like a watered down, politically correct version that continues in the demasculinization of men in this country. It's a good thing we have MMA!
Dick Butkus- This Hall of Fame linebacker played for the Bears… and he played like a Bear with a sore ass. He was probably the most intimidating force in the history of the sport. His intensity and ruthlessness were unmatched. He attacked the opposing offense and hit with bad intentions. His size, skill and especially his mean streak would be a welcome sight in any cage or ring. When watching old footage of him the famed deep voiced narrator of NFL Films was using words and phrases such as "No Holds Barred" and "Street Fight" to describe his style. We must be on to something here.
Ray Lewis– The Ravens linebacker is considered one of the top linebackers in the history of football.  He was ranked as the 18th best player in the history of the league by the NFL Network. He is a Super Bowl MVP; he is a multiple Defensive Player of the Year. I could go on and on but none of these accolades do him justice. His speed, strength and intensity could wreak havoc on the heavyweight division of any MMA organization.
Lawrence Taylor– Well, we are three for three on linebackers (that's says a lot for the position).  LT's off the field exploits could take a few pages in itself to cover so I will skip all of the gory details. He is widely considered the greatest of all time at his position. His speed and power single handedly changed the way the outside linebacker position was played. Could you imagine and LT in his prime competing in MMA?
Jim Brown– Simply put Jim Brown might have been the best football player ever. The Sporting News felt so, naming him as such in 2002. Just as simply stated Jim Brown was a bad, bad man. He literally fought for every yard he ever gained rushing. And when he retired he had gained far more than any other player in the history of the game. Defenders didn't tackle Brown, Brown just decided when to end each run by feeling he had run over enough defenders. His brute strength, his aura and presence would have made a great addition to our sport. Not only that, but for a few bonus points in 1993, Brown was hired as the color commentator for this new Ultimate Fighting Championship organization (what ever happened to them anyway?).  It was a role he occupied for the first six pay-per-view events.
Hockey
This would be another logical place to find a fighter.  Like the old adage goes "I went to a fight and a hockey game broke out". Back in the day each team had at least one enforcer that would throw down at the drop of a stick to protect their pretty boy goal scorer. Those are the days of the sport that I remember but the league has changed a bit since the old days. Now those enforcers have to bring more to the table than just their fists. Today hockey, like most mainstream sports, is focused more on the microwave version and less of the slow cooker style. It's all about the 30 second clip on Sportscenter so the game has been changed to free up the scoring machines on the ice. But I digress…lets get to this list!
Georges Laraque- Well he has a great first name for MMA, so that's a start. Actually, this guy is the king of kings when it comes to NHL throwdowns. He isn't as much of a fighter now later in his career because his reputation proceeds him.  He's a lefty but will throw equally with both hands. He is a huge heavyweight standing at 6'3" and nearly 250lbs. He is more of a gatekeeper these days where the young bucks actually ask permission to fight him before it goes down on the ice. His hands and clinchwork, dirty boxing, etc would be an interesting addition to the heavys in MMA.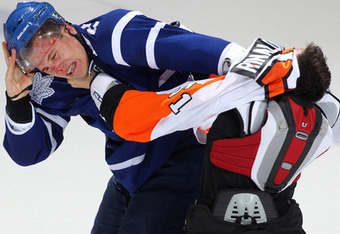 Dave Brown– The Philadelphia Flyer is widely considered as one of the all time greatest fighters in the history of the sport. He was so intimidating that many times he didn't even have to drop the gloves and throw down. His presence and a few well placed words were enough to scare the other tough guys off.  But when he did have to scrap his fights were epic.  Few men in hockey were nastier than Brown (when he needed to be).
Joey Kocur– Kocur's punching power is stuff of legend.  His right hand is hockey's version of Chuck Liddell's right hand. He broke an opponents jaw with a single punch, other opponents had to be help off the ice after tangling with Kocur. Ask Brad Dalgarno, who got his orbital bone crushed by Kocur and subsequently missed an entire season of hockey. Joey's career almost ended before he got to the NHL. In a fight in the minors he hit Jim Playfair's teeth so hard that it put a huge gash in his knuckle that became so infected they nearly had to amputate his hand to save his life. Like Dave Brown, Kocur was an honorable fighter, never throwing more punches than necessary and knowing when he got the better of an opponent to just hold and let the ref step in and do his job.
Baseball
A less logical place to find a fighter but this sport might surprise you with some of the bad asses from its past. Back in the dead ball era (look it up) there were plenty of hard nosed, bad ass baseball players. Again many of the players I selected are from past eras and not currently active or alive for that matter, with one exception.
Pete Rose– Baseball's all time leader in hits, games played, at bats and outs had a durability and work ethic that would make him a great fit in our sport. He gave 100% in every aspect of the sport. One notable instance of his intensity came in the 1970 All Star Game where Rose absolutely barreled over Indians catcher Ray Fosse to score the game winning run. Rose intended to slide head first but saw Fosse blocking the plate; Rose pulled up and instead of sliding literally ran Fosse over. Fosse's career was basically over; he never played the same after that play. As an added bonus "Charlie Hustle", who got his nickname when Whitey Ford coined it after seeing Rose run to first base after being issued a walk, would be able to bet on his own fights without taking any crap for it!
Ty Cobb– The nastiest, most fierce competitor of his and possibly an era. Cobb was elected (and received the most votes) in the inaugural class of the Baseball Hall of Fame and set more than 90 records during his playing career. Cobb's mean streak bordered on insanity, he was notoriously racist and once fought a black groundskeeper over the condition of the playing field. He also choked the man's wife when she tried to intervene. He got in physical fights with umpires, stabbed hotel attendants, and attacked handicapped fans in the stands along with numerous other unbelievable scraps. He was known to sharpen his cleats and purposely drive them into infielders as he was sliding into base. His fighting mindset and "skill set" would be an interesting thing to see in combat sports, considering he turned a mild mannered sport like baseball into a combat sport.
Kyle Farnsworth– Out of all the names on this list you might ask yourself "Who is this guy?" Well, let me enlighten you uninformed readers. Farnsworth was involved in a dust up during the 2003 season when Reds pitcher Paul Wilson stepped out of the batter's box and started to yell at Farnsworth who was on the mound. Farnsworth ran toward Wilson near home plate and literally speared him to the ground inciting a bench clearing brawl. In 2004 after a poor performance Farnsworth kicked and electric fan in the dugout, severely injuring his knee in the process and was placed on the disabled list. In 2005 after a bench clearing brawl Royals pitcher Jeremy Affeldt looked at Farnsworth the wrong way and was jumped after order had seemed to be restored. He was featured in ESPN the Magazine as the most feared player in baseball. He's a big, tatted up, muscular, no nonsense competitor. He dabbles in a number of disciplines in combat sports such as jiu jitsu-ish groundwork, so there is some legitimacy to his madness.
Basketball
Yeah I know the majority of scraps in the NBA, or any level of basketball for that matter, consist of tall skinny dudes wind milling their arms and swatting at each other like 12 year old girls. Surprisingly, I found a few gamers that would do work in the world of MMA.
Larry Bird– No disrespect is meant but Larry Bird got more out of his body than any player in the history of any sport. He wasn't an overly athletic guy but he became one of greatest players in the history of the sport based on hard work and dedication. Bird possessed an uncanny and unparalleled ability to anticipate and react to the strategies of his opponents. His talent for recognizing the moves of opponents and teammates and he seemed to formulate mental pictures of every play that took place on the court. His style would be perfectly suited for jiu-jitsu. But Larry Legend has been known to throw hands once in a while, too… especially if you are wearing yellow and purple. As legendary as Larry was for his play on the court he was equally legendary for his trash talk. During the three-point shooting contest on All-Star Weekend in 1986, Bird entered the locker room, looked around and finally said, "I want all of you to know I am winning this thing. I'm just looking around to see who's gonna finish up second." He won that thing. He could do an awesome job promoting a fight. Also, His height (6'9") and reach would pose serious problems to his opponents. He was listed at 220lbs, so a possible cut to 205? At 6'9"? Wow. Bird's Moustache could also challenge the lip hair of Don Frye or Dan Severn.
Allen Iverson– Pound for pound the baddest man on this list. He's listed at 6 feet and 165 lbs. Those numbers are both very generous. Yet he still spent his entire career driving to the hoop challenging giants that outsize him by over a foot and 150 lbs in many cases. He also played hurt, really hurt at times. He changed the culture of the modern NBA player and had charisma and drawing power that could easily sell Pay Per Views. His speed, quickness and toughness would be a sight to behold in the lightweight division.
Ron Artest– As tough as they come. He has been suspended several times for flagrant fouls, had run ins with head coaches and numerous other incidents. Artest was involved in the infamous Pacers-Pistons Brawl in 2004. Artest fouled Pistons center Ben Wallace. Wallace, upset at being fouled hard leading to an altercation near the scorer's table. A fan threw a cup at Artest, hitting him. Artest jumped into the front-row and confronted a man he mistakenly believed to be responsible, which erupted into a brawl between Pistons fans and several of the Pacers players. Artest returned to the basketball court and punched another Pistons fan, who was apparently taunting Artest. He was suspended for 73 games (the remainder of the season) which is the longest suspension for an on court act in NBA history. He also lost about $7 million is salary due to the suspension. Will all negativity aside, he embodies what a tough guy in the NBA is all about. He gives and takes more punishment than any other player in the league. He crashes the boards; D's up like no other and never, ever backs down. There are times when it looks like he should be fighting in a ring or cage. He would be a handful in the heavyweight division.
Well, that's my short list. I'm sure you could come up with your own equally fun list, too. With the likes of Brock Lesnar and others making a successful crossover, as well as hearing almost daily about other players past their prime deciding to give MMA a shot it is fun to imagine what some of these high level athletes could accomplish in our sport in their prime.  I'm looking forward to the day when MMA is the first option for elite athletes from all around the world.