Saturday, September 25th, 2010 by Tony Reid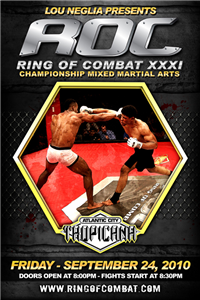 This was the first live Ring of Combat Event I have attended.  We made the drive from Pennsylvania to Atlantic City on Friday Night and got to the casino with just a few minutes to spare after taking about 3 days to find a parking spot.  We made our way through the Tropicana Hotel and Casino and up to the Ballroom, where there was a huge line formed with fans eagerly waiting to get into the event.  I pulled the "I'm with the Band" card (well actually "I'm with the Press" card but you get the idea) and jumped line to get to the press table right quick.  We picked up our press passes and made our way to our seats on the floor.  I have been to many live UFC Events in casinos in Vegas and elsewhere around the country and I was pleasantly surprised by the overall quality of the ROC product.  The crowd at this event was one of the most engaged, excited and involved crowds I have been apart of.  Ring of Combat is an MMA Institution on the East Coast, with this being the 31st installment.  Lou Neglia has obviously been around awhile and putting on great shows for years.  It has been said that ROC is place that showcases tomorrow's stars today. That is an understatement, considering that there have been over 40 fighters secure UFC contracts (and many others securing contracts in other major organizations) after fighting for ROC.
There was no shortage of MMA star power in attendance at this event.  Current UFC Lightweight Champ Frankie Edgar, along with Ricardo Almeida were there cornering a few Ricardo Almeida BJJ team members. Kurt Pellegrino was in attendance, cornering fighters from his school. There was a nice moment where a number of fighters in attendance were recognized and called to the cage for a round of applause and recognition.  This included the fighters mentioned above as well as current Bellator Champ Lyman Good, a number of fighters from the current season of The Ultimate Fighter among others.
Ring of Combat 31 Full Results:
ROC Middleweight Title
-Chris Weidman def. Uriah Hall by TKO (punches) at 3:06, R1
(Weidman with Reidman looking on in the second row)
Red hot prospect and Serra/Longo trained Weidman came in with great wrestling and grappling credentials but spent most of the three minutes in the cage standing and trading with striker Hall, who didn't effectively counter Weidman or get off in any way. Hall seemed very conscious of Weidman's wrestling pedigree and defended a few takedowns and must have assumed more were coming. Weidman found the mark with his left hand and after an exchange pounced on Hall and finished him with an onslaught of punches.  I wasn't keeping track but the crowd was, the count reached 17 before Miragliotta stepped in and stopped the fight, crowning Weidman the new ROC Middleweight Champion. Weidman handed Hall his first loss as a pro and even had some in the media proclaiming Weidman as a guaranteed future UFC Middleweight Champion. I wouldn't want to put that kind of pressure on the kid but he did look very impressive and I will go as far as to say that I expect to see him in the UFC sooner rather than later.
WKA Lightweight Title
-Mikhaeil Malyutin def. Luiz Azeredo by Unanimous Decision
In another title bout, Mikhail Malyutin outpointed Pride veteran Luiz Azeredo for the WKA lightweight title.  Malyutin exhibited a few amazing escapes during scrambles in which Azeredo was attempting to keep the fight on the ground.  Malyutin's stand up game was on point, as he picked Azeredo apart on the feet for most of the fight to earn the decision.
ROC Flyweight Title
-Louis Gaudinot def. Jesse Riggleman by Guillotine at 4:43, R1
TSMMA's Gaudinot and MMA Institute's Riggleman set an extremely fast pace out of the gate.  With Riggleman trying to secure takedowns and control the fight on the floor and Gaudinot trying to scramble and get the fight back to the feet. Once the fight got back standing Gaudinot sunk in a flying guillotine that had Riggleman tapping as soon as they hit the floor. When the fight ended Gaudinot literally leaped out over the cage, did a victoy lap and ended up running up to his mother in the stands and bringing her down to the cage with him as he had his shiny new belt wrapped around his waist.  It was a very nice, heartfelt moment and his mother was visibly moved by the gesture. Look for Gaudinot to land in the WEC sometime in the near future.
Main Card
-Joe Aviles def. Mike Medrano by KO (flying knee) at :52, R2
Jungle Gym standout Joe Aviles went toe-to-toe (and fist-to-fist) with AMA Fight Club's Mike Medrano for a full round before landing a devastating flying knee that put Medrano out cold. Medrano was out as he fell to the ground and Aviles followed him and unleashed a number of punches on the unconscious Medrano before the ref could step in and pull him off.  I was inconvenienced by this as I had to move my chair so the medical professionals could get the stretcher to the cage and then again as they wheeled Medrano back passed me. I took a few minutes to pick up my pen, paper and business cards…I mean come on! But seriously, Medrano was conscious and responsive as he was wheeled away and expected to fully recovered in no time.
-Rich Ashkar def. Doug Gordon by Unanimous Decision
-Marcos Pereira def. Jacob Kirwan by Unanimous Decision
The only reason I am writing about this fight is the fact that Pereira had, hands down, the most obnoxious supporters of the night. I don't mean in a tough guy "We think we can kick your ass just because we are here with a fighter" way but in a more annoying way. His supports were imploring the crowd to chant his name throughout the fight. The problem was that he was a late replacement and no one understood what name they were chanting. They were all over the place running around like we were at a World Cup Soccer Match. They just lacked the face paint.  They were actually escorted by security back to their seats at one point. Even more classic was the fact that they were chanting literally in the ear of Kirwan's father.  So naturally, Kirwan's dad starts yelling in support of his son. He's yelling for the younger Kirwan to break the guys neck and well, you get the idea. It was great fun to watch that as much as the fight itself.  In said fight, Kirwan fell in love with the guillotine and attempted it numerous times to no avail, losing a unanimous decision.  And if you are interested how the action ended outside of the cage, at the end of the fight Kirwan's dad went over and shook the hands of Pereira's supporters. As a side note, this is why you need to read my coverage of events because you won't get this kind of information anywhere else.  Oh, you don't want this kind of information?  My bad…
-George Sullivan def. James Frier by TKO (knees) at 2:24, R1
-Steve Edwards def. Hazem Ibrahim by Rear Naked Choke at 2:31, R1
-Dave Church def. Villi Bello by Rear Naked Choke at 2:34, R3
And the winner of the most intestinal fortitude exhibited of the night, Pellegrino MMA fighter Dave Church somehow survived the blazing stand-up of Villo Bello to turn the tide and sink a third-round rear naked choke.  Church was dropped twice early in the first round but got back up swinging and by Round 3 Bello had gassed himself out with all of the early punches he threw.  This might be the best Church performance yet, and he deserves a ton of credit for the resilience and heart he exhibited.  There are some fighters that really take on the aura and personality of their coaches and Church definitely fights in a Pellegrino-esque way.
-Tom DeBlass def. Tom Velasquez by TKO (punches) at :50, R2
-Mike Andrillo def. Scott Fairlamb by Guillotine at 1:33, R2
-Evan Chmielski def. Ryan Castillo by Split Decision
-Chris Wing def. Yusef Yoldas by KO (punch) at 1:21, R1
Top welterweight prospect Chris Wing improved to 2-0 with a devastating knockout win over Yusuf Yoldas in the opening fight of the night. Yoldas was 0-2 prior to losing this fight and all of his losses were quick finishes but in defense of Wing, he was originally scheduled to face a "prominent" opponent but that fell through last minute.
Overall, the event was a huge success and left me wanting to come back the next night for the amateur ROC Card. That didn't happen but I can assure you that Ring of Combat is a force on the east coast and they gained at least one more fan after this event.  I look forward to making the trip to Atlantic City again and catching more ROC action.